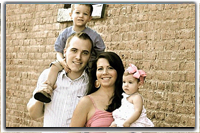 Partners,
I wanted to take a minute and update you on where we are at with our church plant, Gateway Heights, and highlight a few of our larger and more pressing needs.
On August 7th, we covenanted as a church with 14 members and began the process of planning out three preview services. A few weeks later we secured the Big Dog Theater (or the historic Centrum Theater as people in Cleveland Heights know it)  as our meeting location.  The space holds 250 people in stadium seating in a traditional theater set-up with a huge stage located down at the front.  God really blessed us by providing this space which is located in the Coventry Village area which is the heart of the arts community in our part of the city.  It is also home to many 18-25 year old college students and young professionals.
Our first preview service, held on August 28th saw 65 adults show up to the theater to come and see what this new church was all about.  While the service highlighted many areas on which we need to improve, it was a tremendous starting point.  The experience gave us the invaluable insight that comes only from having tried your ideas in a tangible real-world setting.  We also connected with 8 people who indicated they would be interested in membership.
God continues to provide Amy and I with countless opportunities to build relationships and share the gospel with lost people such as Samara and Paul who we just had over for dinner on Monday night.  Samara was born in Iraq and considers herself to be irreligious although she was raised in an Iraqi tribal religion.  Paul grew up Catholic but has walked away from Catholicism while pursuing a career as a movie cameraman (now working on I, Alex Cross which is filming in Cleveland) and a documentary filmmaker.  Pray for Paul and Samara that God would lead them to be open to our attempts to share the love of Jesus Christ.  And while you are praying, include Georgia, Maritza, Kumar, Craig, and Chris who we are also trying to build relationships with and share Christ.
God has blessed us by allowing us to be a part of what he is doing here in Cleveland Heights and by giving us partners like you.  I realize many of you, both individuals and churches, are making tremendous sacrifices in order to see a work done here that you will never directly be a part of on a personal level.
I do want to highlight three major needs that are quickly becoming pressing issues.  First, the theater we are meeting is does not have a sound system, so we have to purchase one.  I have worked with some of our musicians and tech-savy people to come up with an estimate and have priced the system we need out around $8,000.  Could you pray with me that we could find the money to buy sound equipment?
We are also going to need to purchase a projector that will cost us around $1,500.  Could you pray that God would provide the resources to get the projector? It will be used to show video and to put the words on the screen as we sing together.
Finally, we are in desperate need of doing a mass mailer to our community in order to let them know that the church will be launching soon.  The mass mailer, which would go twice to 27,727 homes will cost us around $13,000.   Could you pray with me that God would provide the money for the mailer and that it might interest people enough that they would come to Gateway Heights and hear about Jesus?
Let me run that down for you –
$8,000       Sound System  (band, record sermons, play video, etc…)
$1,500       Projector  (show video, announcements, place words on screen)
$13,000     Two Mailers ($6,500 a piece) to 27,727 homes inviting them to our launch service.
________
$22,500     Needed before October 23rd
Please join me in praying for these things.  Thanks for everything!
Zach Weihrauch
Lead Pastor / Planter, Gateway Heights Church
heights.gatewaycleveland.com